Building an engaged and productive team of employees is the main concern of any business owner, and offering a benefits package is a proven way to attract and retain great employees.
A competitive package can improve your recruiting efforts, reduce turn-over and is a tax effective way to increase compensation.
Many small business owners think that a benefits package is out of reach for them, assuming it will be too costly and difficult to manage without HR help. After years of experience in this industry I can say that when owners have knowledge of the key cost drivers and maintain effective communication with their employees and their insurance company; a benefits plan can be a great hiring differentiator in a small business setting – without breaking the bank.
Three key components of a sustainable small business benefits plan:
· Cost sharing with employees
· Reasonable limitations on coverage
· Ongoing claims monitoring
At Next Benefits we aim to remove friction in the benefits buying process as much as possible. To help educate first time buyers about the process, I will outline the steps to implement a benefits package with these characteristics.
1) Decide what benefits to offer
The most common first question we receive is "what is a standard package?". Below is a typical plan that strikes a great balance between employee value and price sustainability:
Extended Health Insurance: 80% covered for prescriptions and paramedical. Maximum of $300 annually per person per paramedical practitioner (massage, physiotherapy, chiropractor etc.)
Dental Insurance: 80% covered for routine cleanings, checkups and basic procedures to a maximum of $1000 per employee per year
Life Insurance: Flat $50,000 and matching Accidental Death and Dismemberment
Additional:
Vision Care: This depends whether it matters to your team, it is relatively simple and inexpensive to add to the plan later.
Disability Insurance: Most do not include this on an introductory plan. Disability is a bit more custom and requires information about occupations and salaries. It is very valuable coverage and relatively inexpensive in a group plan setting. We highly recommend adding it as soon as your budget allows.
Take a look at our online quote resources to get a general sense of the price changes for different customization. In certain cases, you will be able to find a plan that meets your needs to begin purchasing online. Beyond this, you will need a custom quote from an insurance company.
2) Get a quote
In a small business setting, everyone has a say. A quick communication with employees about what benefits are important to them will help get everyone on the same page. Reference the above plan design to lead the discussion, then answer the following:
● It's generally a given that employees will want Health and Dental – how about vision care, or disability?
● How many of your employees are single, how many have a family? How many employees are covered on their spouse's plan and will waive benefits?
● Is everyone interested in joining the plan? Though it can vary between insurance companies, the general rule is that if the company is under ten people – everyone must join.
Below is a basic Employee Data Sheet that outlines the required information to get a custom quote. With an overview of the benefits you would like and a snapshot of your group demographic, you have the information needed to request a market survey.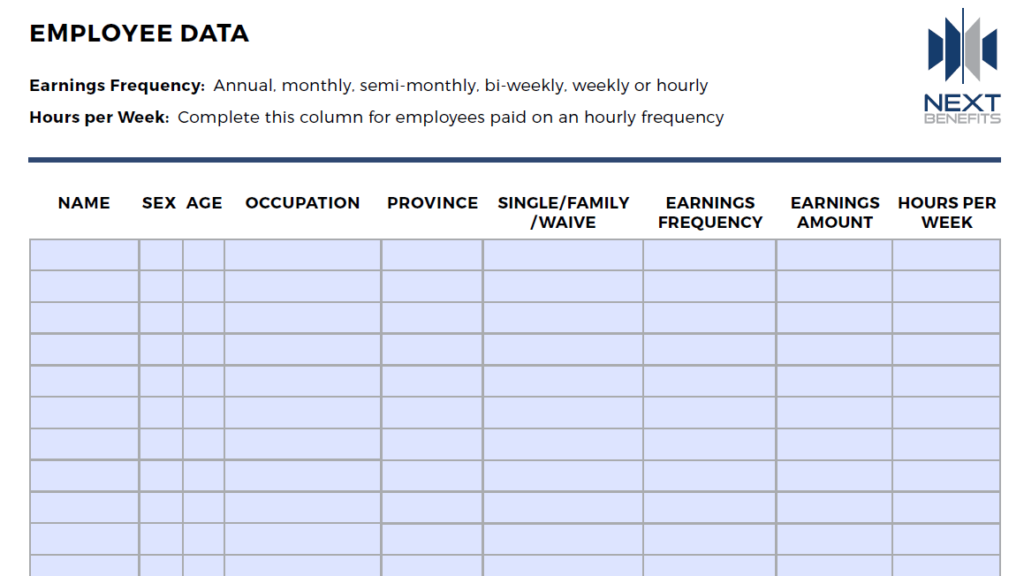 You will start by choosing a broker to manage your plan, be it an online broker or a financial advisor you trust. Select a broker who can canvass the market of insurance companies, not someone who is tied to one company. You also want to choose someone who has a meaningful amount of experience in group insurance.
---
---
Your broker will then present a full form quote with details of coverage offered and exact pricing.
3) Choose an Insurance Company
First-time buyers sometimes speak about their fear of purchasing from an insurer that will not honour its commitments and pay claims. That is not something I have ever come across; that being said, each provider has strengths and weaknesses.
● The large insurance companies (Great West Life, Sun Life, Manulife) have a myriad of custom coverage options and add-ons but tend to be less technologically advanced, making the process long and cumbersome.
● Smaller third-party administrators tend to have much more modern software and better customer service but lack the customization power of a large insurer (for, say, a complex prescription drug treatment plan).
Small businesses have different needs than large companies; this should be taken into consideration when determining which insurance company will be the best fit. In general, startup founders and small business owner-operators will lean towards simple packages, and benefit from robust online tools for quick answers and to save time on administration.
From there, you can analyze which insurance company is offering a competitive rate and make your decision.
4) Get your employees to "Buy In"
Many small businesses split the cost 50-50 with employees. Employees want to see maximum value from this new expense. It can sometimes be difficult for an employee to see the value of the plan before using it, so here are a few points to bring up:
● You are generously paying half of their total cost. Employees may only see $25-$50 per month of cost, and in turn have subsidized prescriptions, massages, physio and dental procedures. Make sure to illustrate the cost/ value comparison and that this cost sharing only works when you are in it together.
● If there are one or two people on the fence about joining the plan, make sure to let them know what they are passing up. If they refuse to join at the outset, they can be denied the ability to join in the future. Life and Disability coverage can provide a massive benefit in the case of an emergency and in a group setting, requires no medical. We tend to see that once employees are fully informed – they will join.
When you receive your quote, send your employees a package outlining the benefits in detail. They will have questions about what is covered and whether it is worth it to them.
Leverage your broker to illustrate the cost/benefit comparison and pass this information along to your team. In nearly every case, the benefits far outweigh the cost.
A few points on plan maintenance
A benefits plan renews once a year, much like car insurance – based on the ratio of premiums taken in to claims paid out, you may see an increase or decrease in price the following year.
The best way to make sure the plan cost is sustainable long term is to ensure that everyone using the plan understands the ratio. If not offered already, make sure to request a usage report from your insurance company or third-party administrator twice or three times a year to make sure you are on track for a healthy renewal. When you are given information ahead of time, it makes it much easier to course correct to avoid costly increases.
Armed with a bit of knowledge and preparation you can breeze through the process and soon experience the recruiting and retention power that a benefits plan can offer!